The exciting world of Content Marketing, allows you to know trends in different areas faster than ever. One of them is the automotive sector, whose public now takes advantage of the Internet to obtain information, communicate with other users and even make purchasing decisions.
Therefore, let's analyze their trends, to know how to take advantage of them for the benefit of your brand and achieve a proper Seo positioning.
Millennials now prefer digital media
Indeed, young audiences use the available digital platforms to find out everything they need to know. The various media have transformed the way communication is disseminated, as well as the type of content users enjoy. In the case of millennials, here are some ideas to capture their attention in the automotive field:
Virtual reality and Video Marketing: for many years, young people with enough purchasing power have resorted to video content to find out what kind of car they want and what it looks like on screen. Now, it's much easier to go to YouTube to find the exact material you're looking for. Automotive companies know it and make the most of it in their campaigns.
Among the most eye-catching examples we have:
Mustang and Speed Dating, a fun concept that mixes storytelling with brand promotion.
Audi and its eye-catching campaigns, which mix impeccable cinematography with the exhibition of its products.
Chevrolet with its Best Day Ever concept, aimed at the millennial public and in which even famous music stars participated, such as Kelly Clarkson.
On the other hand, car brands are taking advantage of the current technology available, such as Virtual Reality, to promote the concept of their brands.
An example of this is Virtually Porsche, a campaign that shows the best features of its Panamera 4 e-hybrid vehicle, in an environment of 360 degrees.
A digital experience for a potential customer has never really been so pleasant. Therefore, the union of this technological trend with Video Marketing will produce great results.
Offer them short stories: this audience segment is not looking for drama, but for healthy fun and dynamic concepts. Therefore, the union of music and style with a short script is the best way to go.
Car Sharing becomes fashionable
Another curious trend in the world of automobiles is the rental of vehicles for a short period of time, usually only a few hours. This is known as Car Sharing. Google searches on this subject have increased significantly, so it is necessary to take advantage of the interest to get customers and conversions.
Before that, it is important to clarify that this trend in no way represents a decline in vehicle sales or negatively affects other types of leasing plan. Therefore, you can use it to add value to your Content Marketing plan, through these ideas: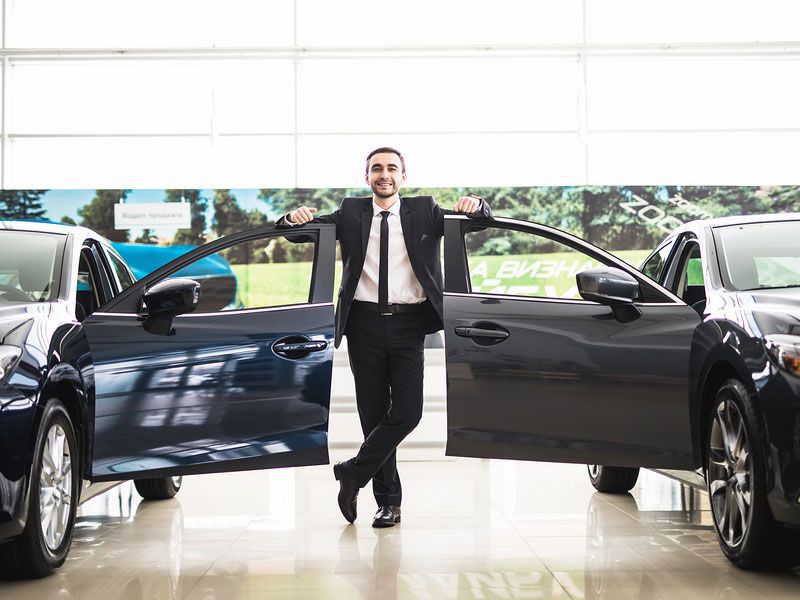 Educational content related to the topic: some of your audience won't know what this term means, so it's a great excuse to create content on your blog to inform them about the features and benefits of car sharing.
Take advantage of the trend to generate conversions: is it convenient for your business? By analyzing your figures, your data will probably show that it can substantially increase your profits in the next 12 months.
Then, adjust your digital platforms to welcome the concept, with a new category on your home page and content in various formats that generate interest among the public who want to hire this type of service.
The automotive universe and the mobile market
Traffic on mobile devices has already surpassed that generated in conventional systems. That's why it's so important to focus your strategy on this concept in order to meet your promotional goals through the plan you undertake.
The mobile market allows a large field of action and the main automotive brands are already taking advantage of this trend. How can you position your company?
Responsive Design: remember that currently, the design of each of your digital media must be optimized for proper viewing on smartphones. This is the number one factor to ensure an adequate response from your audience and increase the number of conversions through mobile devices.
Application development: since most digital purchase interactions occur through smartphones and tablets, it is necessary for each automotive company to have an application capable of satisfying the user's needs, at different levels:
It should provide useful and fresh information on types of contracts and vehicle purchase plans.
The visual content should be abundant and powerful, allowing the user to admire in detail the product they want to purchase from the comfort of their cell phone.
By means of the application, it will be easier to schedule a visit to the agency to perform any type of commercial transaction, or request driving tests.
Local searches and Voice Search technology
On the other hand, your Seo positioning plan should consider the current importance of voice searches, especially when this trend is intimately linked to the local market.
Voice Search technology has allowed millions of consumers to modify their shopping experience, thanks to the accuracy with which engines process spoken language. For an automotive company, this is an ideal way to generate as much interest as possible in the local market and increase conversions.
Example: Company "A" is located in a state with 10 municipalities. On the other hand, 70% of its customers are located in the capital. Therefore, they have found a way to take advantage of the weekend tourism that comes from these municipalities, by including among their services the Car Sharing, a trend we talked about in previous paragraphs.
Next, your campaign through your blog and social networks, will be optimized with keywords of strong commercial intent, such as renting car-sharing, $25 dollars an hour. These keywords will be included in your blogging work frequently, so that voice searchers can easily find what they're looking for.
In the case of tourists within the same state, car-sharing conversions could increase to double or triple after this work is done. As you can see, the relationship between market trends, technology and Content Marketing work is closer than it seems.